Category: E-Cigarettes
This video interview with AmeraVape founder and owner Erik Hutchinson is very different from the usual RPadTV vaping interview. It's mostly unedited and much longer than the video content that I usually post. As many of you know, AmeraVape — creator and manufacturer of the popular Manhattan mechanical mod — has been embroiled in several controversies. There are a lot of strong opinions about the company. Some of the opinions are justified, while some are the result of misinformation. Given AmeraVape's controversial position, I jumped at the opportunity to film … continued
One of the latest offerings from Wu Tang House of Mods — one of my favorite Filipino modders — is the El Sigilo. This mechanical mod features a unique design and fantastic aesthetics. The standard model available in brass and stainless steel, as well as a torched steel "special edition" covered in this review. It's also available in copper, but with zodiac sign aesthetics rather than Filipino-style engravings. All models come with 18650 and 18350 tubes. The El Sigilio ships in a treasure chest that contains the mod, as well … continued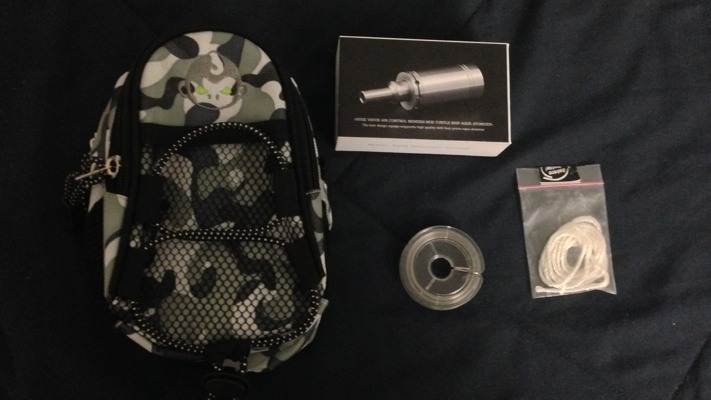 The latest RPadTV 2014 Vaping Giveaway is for a set of four items. One lucky winner will walk away with:
An Aqua atomizer replica
A camouflage vaping pouch
A spool of 28-gauge kanthal flat ribbon
A package of Bakero wick
This contest requires either a Facebook or Google+ account. To enter this contest, all you have to do is:
…
continued
It was excellent catching up with The Force Vapors CEO Eric Trotter at Evaporate Los Angeles. As a Star Wars nerd, I absolutely love the company's theme and style. As a vaper, I've enjoyed several of The Force Vapors' juices. The owner of Evaporate LA turned me onto Leia's Creamy Cookie and I've been a fan ever since. More importantly, Eric is a cool guy that runs an honest company that has longterm goals in vaping, as opposed to numerous cash-in-now ventures that I've encountered. In the interview above, … continued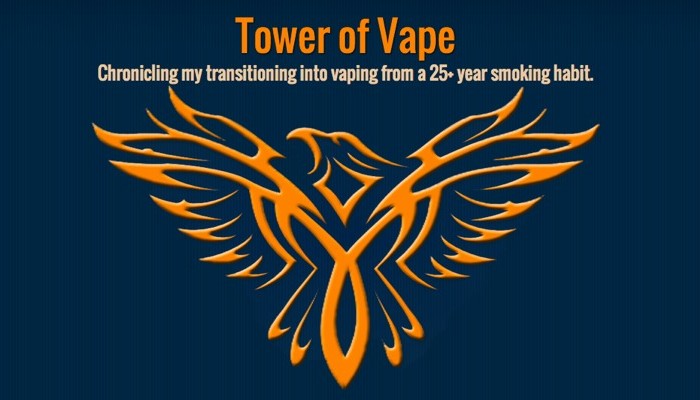 Embedded below is my Tower of Vape appearance from a few weeks ago. Host Rich Gavina and I covered a bunch of vaping products and issues in our long chat. We talked about how I started vaping, e-cig hardware, what makes a great vape shop, what I'm trying to do with the vaping section of RPadTV, and lots more. It was lots of fun being on Tower of Vape and I hope to make another appearance this year. Also, I'm happy I got to name drop a bunch of … continued
Vapers that love authentic tobacco are in for a real treat with River Bottom Fog Sauce. This relatively new e-liquid company specializes in juices made with naturally-extracted tobaccos (NETs). While River Bottom Fog Sauce is one of the newest NET e-liquid companies in the business, it has already established itself as a top-tier juice maker, as far as NETs go. I've been vaping three of the company's juices for the last few months: Fabulous & Burley, St. James Parish, and Poet & Scholar. I was very, … continued
Several weeks ago I met Justin Kelley, co-owner of 4Kast Vapor, and was surprised by his drip tips. 4Kast Vapor has launched with drip tips made from bullet shells, with a pressed delrin core. Drip tips made from 9mm and Smith & Wesson 40 caliber bullet shells are obviously cool, but the pressed delrin core makes these drip tips unique. 4Kast Vapor drip tips are fantastic for sub-ohm vapers; the delrin core is great at dissipating heat and also features wide bores for maximum airflow.
4Kast Vapor drip tips … continued
Vapour Art is one of my favorite mod makers in the world. The company uses top-quality metals like 316 stainless steel and aluminum bronze. Vapour Art's craftsmanship is some of the finest in all of vaping; the threads on its mods are exceptionally smooth and the overall workmanship is brilliant. The Vapour Art GP Paps X was my favorite mod of 2013. As you can imagine, I was incredibly psyched to receive the GP Paps X Lux. This mod has everything I love about the GP Paps X, … continued
Last week I dropped by Beyond Vape to chat with company co-founder Billy Chen. In addition to running several successful stores around the country, the company has a number of products under the Beyond Vape and Aria brands. In the interview above, Billy talks about some of the company's upcoming vaping devices and accessories. From mechanical mods, DNA 30 devices, and protectivecases, Beyond Vape has a ton going on. Prototypes of the upcoming Oros, Hyperion, Sage, and Luna vaping devices are discussed and shown in … continued
The IGO-W5 by Youde is a nice rebuildable dripping atomizer for vapers on a budget. It's arguably Youde's best dripper to date — very well built for a mass-market atomizer. That said, it's a spartan offering and lacks some of the features today's vapers want in an atomizer. That's where the VLS Crest Cap comes in. This third-party accessory is made for the IGO-W5 and adds features that many vapers expect from a dripper in 2014. The VLS Crest Cap elevates the IGO-W5 from a good budget atomizer to a … continued
---