Category: E-Cigarettes
Another new Southern California company in the highly competitive field of vaping e-liquids, Lavish Elixir has launched with a trio of fruit-and-cream juices. At Vape Nights 2014, I caught up with Lavish Elixir owner Eddie Latorre to learn more about the company, the three initial e-liquids, and what's coming next.
Eddie's three launch flavors are Jet Setter, Swanky, and Pristine. Jet Setter is a combination of strawberry, mango, guava, and cream. Swanky is a blend of kiwi, watermelon, peach, and cream. Lastly, Pristine is a mix of dragon fruit, guava, … continued
Vape Maps co-founder Alex Pessah joins me for the second episode of The Vape 48 on RPadTV. One of the best mobile apps for vapers, Vape Maps has several new features coming. The Android and iOS apps will be getting updated visuals and functionality, and new features are coming to the website too. Alex covers it all in the opening segment.
Moving to the hardware side, Alex brought the fascinating PrimusZ box mod. This Bluetooth-enable box mod allows users to track and share vaping stats, adding a nerdy … continued
A few weeks ago, I meet Bizarre Juice Supply founders Ally Piddock and Jack Gallagher at The Vape Source's one-year anniversary party. They're friends with my excellent pals Ronald and Mel, so I had a feeling they'd be cool. While they're definitely fun people, what's more interesting to you guys and gals are the vaping e-liquids they make.
Bizarre Juice Supply e-liquids stand out for several reasons. The most obvious aspect of the company's goods is the bottles they come in. They're made from frosted glass and shaped like skulls. … continued
I first met the All Good Vape crew last year at an LA Vapers Club meet. After a quick taste of the company's vaping e-liquids, I was smitten by several of its juices. All Good Vape e-liquids are complex and layered, using multiple ingredients to achieve unique flavors. After going back and forth with the owners, I was finally able to nab a video interview with All Good Vape at Vape Nights 2014.
In the clip above, All Good Vape owner Steven Arthur talks about the company's background. He launched … continued
A couple of weeks ago, I attended Inhale Vape's grand opening and met Logan Ellis from Arsenal Vape Co. A few of my friends were raving about his e-liquids and I was excited to learn more about the company. Arsenal Vape Co. was started by two Marines that are into vaping. The company strives to make high-quality juices that stand out in a highly competitive market. Naturally, the company name and its juice names reflect the founders' Marine background. (Thank you for your service!)
Logan was kind enough to … continued
Welcome to the first episode of The Vape 48 on RPadTV! My goal is to film 48 episodes of the show in 2015. Each one will feature a guest from the vaping business. In addition to getting an update on the guest's company, we'll talk about the vaping hardware and e-liquids we've been enjoying lately. And yes, I totally lifted the name from DC Comics' "The New 52."
Week one of The Vape 48 stars Vaping Utopia owner Kavish Mehta. He talks the three new e-liquids he recently launched: … continued
I'm a big fan of Diamond Liquids on several levels. First and foremost, the company makes a number of delicious e-liquids that I enjoy. I appreciate that Diamond Liquids is very particular about the sweeteners it uses and which ones it doesn't. Lastly, it's fantastic how supportive the company is with the local vape community. There are usually multiple vape events every weekend in Southern California and you'll almost always see someone from Diamond Liquids in attendance, supporting local vape shops and vape companies.
In the interview above, Diamond Liquids … continued
One of the newest companies in the ultra-competitive world of vaping e-liquids is Jiu Jit Juice. Inspired by mixed martial arts and crafted by a jiu jitsu practitioner, this line of juices has launched with a trio of dessert e-liquids.
The "white belt" line of Jit Jit Juice flavors features a high-VG base and a unique combination of flavors. Armbar is a layered combination of coconut and custard. Triangle is a strawberry, waffle, and cream combination that has one of the best and most distinct strawberry flavors I've tried. … continued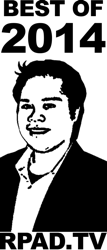 RPadTV's "Best of 2014″ vaping coverage continues with a list of excellent atomizers and accessories. Similar to my list of favorite 2014 mods, there's no such thing as a "best atomizer," but for SEO purposes this article is titled that way (blame Google). Unlike most of the Southern California vapers I see regularly, I'm more of a flavor guy and not much of a cloud chaser. My top atomizer pick reflects that. Also keep in mind that I only included atomizers that I've used extensively. There are a number … continued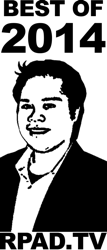 Now that 2014 is over, let's take a look at my favorite vaping mods of the year. While the title of this article is "Best Vaping Mods of 2014," that's simply for SEO purposes. Mods are subjective devices, with different people looking for different levels of performance, certain aesthetics, various buttons feels, and more. As for me, I like strong performance, but don't really need top-of-the-line voltage drop. I prefer aesthetics that are simple and understated. The vast majority of my batteries are 18650, so I gravitate towards mods made … continued
---