Category: E-Cigarettes
Five Pawns Mixology line is comprised of a quintet of e-liquids inspired by alcoholic beverages. Similar to many of the Five Pawns juices I tried last year, several of the Mixology e-liquids are complex and unique. One of them is among the most distinct e-liquids I've ever tried. Five Pawns has a fervent fan base and the Mixology line broadens the company's reach by introducing new flavors. Mixology also takes Five Panws to the next level by serving up some wonderfully complex juice. While these Five Pawns Mixology juices aren't … continued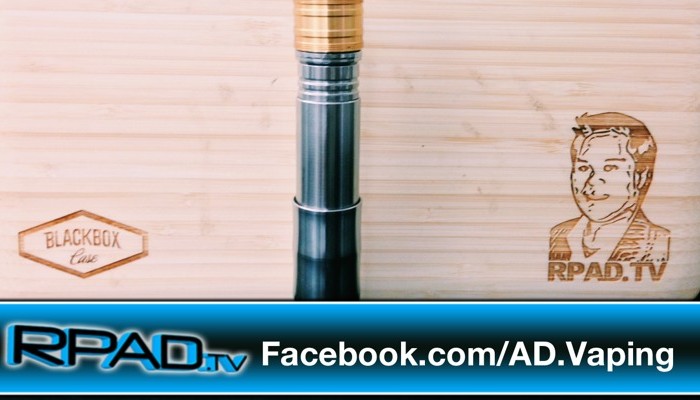 Thanks to everyone that entered the first RPadTV 2014 Vaping Giveaway! Next up is a chance to win a sweet Filipino mechanical mod — the Phantom v2 by Ricardo Ferrer. This stainless steel Pinoy mech features copper contacts for hard-hitting performance. It accepts 18350 up to 18650 batteries. The Phantom v2 has a unique "palm tree" design that gives it unique looks and an ergonomic grip. For more information on this mod, be sure to check out my full review.
Remember, RPadTV Mod owners automatically receive five additional entries … continued
Here's a review of three very different e-liquids from Ahlusion. Orient Whisper is a complex fruit blend that really stands out. Next is Ahlusion's excellent take on cherry cola. Wrapping things up is Sahara Blend, one of the best juices I vaped in 2013. As with the other Ahlusion e-liquids I've had, the flavors are delicious, natural, and masterfully blended. Read on to see if these three excellent Ahlusion juices are right for you.
Orient Whisper: A lovely fruit mix with lychee as the highlight, Ahlusion … continued
Crescent Moon Innovations International's Double Cross 1.5 atomizer is one of the more innovative rebuildable drippers I've used. It has several novel features and was made with flat ribbon
users in mind. There are many things I love about the CMII Double Cross 1.5, but there's one aspect of the RDA that I was unsatisfied with. Read on for the full details of this unique atomizer.
What's in the Kit: The CMII Double Cross 1.5 comes with the atomizer, a hex wrench for the posts, and an authenticity card.… continued
Goodejuice's House Brewed line of e-liquids is a must-try for vapers looking for an authentic tobacco experience. All of these juices are made with naturally-extracted tobaccos. The company's extraction style results in a quality that some describe as deliciously musty or funky. Goodejuice's Patriot Tobacco, Natural Perique, and Vita Bella all have that distinct funk, to varying degrees — a taste that I find rather delicious. While I always recommend Goodejuice's House Brewed line to vapers looking for a true tobacco experience, the juices are different enough from … continued
Back in Vaping Diaries #159, I wrote about Craft Vapery. It's a new subscription-based e-liquid service that offers a curated approach to vaping juices. First, the big news — pricing has gone down from $40 for three 15ml to $33 for three 15ml. While the price is still more expensive that what most online e-liquid vendors offer, it's a little bit cheaper than what's found at most brick-and-mortar vape shops. Remember, what you're getting with Craft Vapery is highly personalized service and curated juice recommendations. For certain … continued
Bay City Vapor is a relatively new mod maker out of Seal Beach, CA. The company started getting attention in Fall 2013 for its then upcoming SurfRider and XXIX mods. Both are relatively inexpensive and have innovative features. The SurfRider is available in C464 naval brass and 316 stainless steel. It costs $140 for the single-tube version, $190 for all three stainless steel tubes (18350, 18490, 18650), and $200 for all three brass tubes. For the last few weeks, I've been vaping on a SurfRider and been quite pleased with … continued
For the first RPadTV vaping giveaway of the year, the prize is a stainless steel Sigelei Zmax. This telescoping variable-voltage vaping device works with 18350 up to 18650 batteries. The kit comes with the mod, one 18650 battery, one 18350 battery, a battery charger, and a carto/tank. Remember, RPadTV supporters that own an RPadTV mod will receive an additional five entries for all giveaways this year. To enter, all you have to do is:
The Aqua by Footoon from UVO System has been one of the hottest atomizers for the last few months. This bottom-coil silica atomizer is often touted as a "Kayfun killer." I completely disagree with that label, but have become extremely fond of the Aqua atomizer. The Kayfun 3.1 is indisputably one of the finest atomizers on the market today. After using the Aqua atomizer for several months (special thanks to The Vape Source for the hookup), I believe that it's just as excellent, but offers a very different vape. It's … continued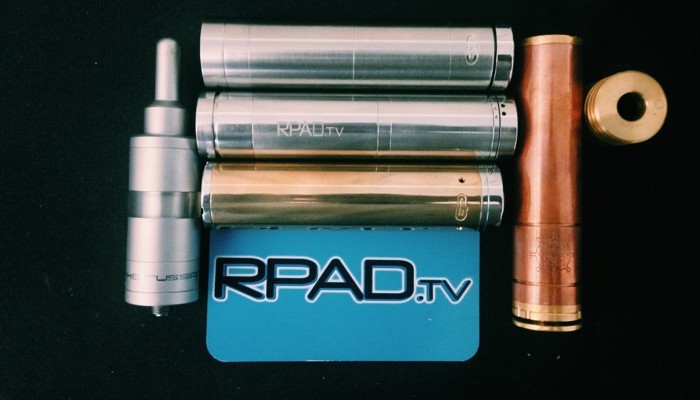 Now that I've gone over my top 10 e-liquids of the year, it's time to talk about my top 10 vaping devices of 2013. Like the juice list, my hardware list is completely subjective. In most situations, I almost always prefer mechanical mods and rebuildable atomizers. This list reflects my tastes, so to borrow a line from the Diff'rent Strokes theme song, "What might be right for you, may not be right for some." (What? Was that joke too dated?) Anyway, here are my favorite mods and atomizers of … continued
---