Category: E-Cigarettes
As I was walking past The Oil Company's booth at Vapecon USA, its bottles immediately caught my eye. The Oil Company uses bottles that are unique, different, and cool. Each one is hand finished and hand painted, so no two are the same. I immediately want to learn more about these e-liquids and started chatting with chief of operations Ehab Abufarie. In the interview above, Ehab talks about the unique bottling process The Oil Company e-liquids use, its three launch flavors, the next flavor coming, and why it's important to … continued
The Mad Carpenter has been making gorgeous hand-crafted wood vape stands for years. Recently, the company introduced a hand-crafted wood box mod called the Curve V1. With the same quality as its renowned stands, The Mad Carpenter Curve V1 is one of the most beautiful box mods you'll ever see. There are several variations of the Curve V1, since dozens of different woods are used throughout the line. All models feature an ergonomic shape that allows you to get a good grip with either hand, as well as a unique … continued
If there's a vaping event in Southern California, Good Vibes E-Liquid creator Kuya Ray is more than likely to be there. I'm pretty sure there are at least three of him, because dude is everywhere. Ever the hustler, Kuya Ray has been netting a ton of attention with Good Vibes' juices. A lot of my friends are hooked on Lei'd and LA Lovin'. In the Vapecon USA 2014 interview above, Kuya Ray talks about those flavors, the Morning Wood and First Kiss juices, and a couple of upcoming additions. There's … continued
Mom's Vape Protectorz (MVPZ) owner Cindy Kaminaka is a fixture in the SoCal vape scene. She's a mother figure or big-sister type for so many SoCal vapers. Her company also makes some of the best mod protectors in the business. MVPZ mod protectors are made primarily from neoprene, which is soft, cushioned, and stretchable. The company offers models that can accommodate eGo-style e-cigs, 18xxx mods, 26650 mods, and box mods. Several MVPZ models are also available with horizontal or vertical velcro straps, allowing them to be attached to a backpack … continued
In addition to being a ruthlessly rocking bassist and one of the most powerful denizens on planet Earth, GWAR's Beefcake the Mighty is an avid vaper. He even has a juice named after him (German Chocolate Beefcake) in Mt. Baker Vapor's line of GWAR Fluids. Minutes before he took the stage and conquered the crowd, I had a brief chat with Beefcake the Mighty to learn more about his vaping habits and how the relationship with Mt. Baker Vapor came about. The answer to the latter was … continued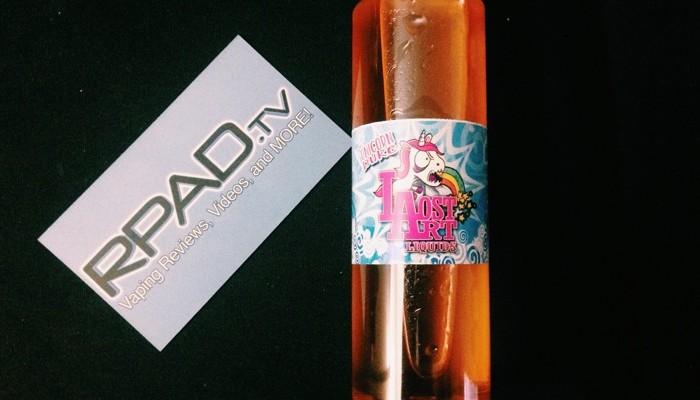 Lost Arts Liquids' Unicorn Puke is a wildly popular e-liquid and you have a chance to win a 120ml bottle of it in 3mg! If you enjoy rainbow sherbet then you'll love this fruity blend with a touch of cream. If you don't enjoy rainbow sherbet then something is wrong with your tastebuds and/or brain. As always, RPadTV mod owners get five additional entries (buy yours today for only $60!). For a chance to win this bottle of excellent juice, all you have to do is… continued
Vapetilly is a social network for vapers with Android or iOS devices. It combines elements of Instagram, Yelp, Tinder, and more. Vapetilly is all about connecting vapers, whether it's vaper to vaper, retailer to vaper, mod maker to vaper, etc. In the interview above, Vapetilly founder Allen Seiden goes over the app's current features and talks about upcoming additions.
In addition to an Instagram-style feed, Vapetilly has some nice features for vapers looking to pick up new goods. The app makes it easy to find vape shops and the feed … continued
This interview with True North Tonics owner Pedro Benito is longer than my usual chats with e-liquid makers, but it's also more interesting. Pedro talks about moving from a touring indie-rock musician with The Jealous Sound and Sunday's Best to composing music for film and television to crafting e-liquids. True North Tonics offers some of the cleanest e-liquids out there, with several unique and complex flavors. In my opinion, the company is one of the most underrated in the vaping business.
There are several things that help True North Tonics … continued
In addition to heading up Nirvana Vapor and being a partner in True Leaf Vapor, Jay O'Brien has launched a new line of vaping dessert e-liquids called V4Vape. Aimed towards vapers that enjoy sweet and savory e-liquids, V4Vape stands out with some unique and complex blends. In the interview above, Jay talks about the company's four launch flavors and the future of the line.
Going down the menu alphabetically, Valentine is a mix of condensed milk, rose essence, and nutty flavors. Surprisingly, this one has been a hit … continued
I saved my favorite ECC 2014 interview for last — a fun chat with the excellent owner of Tobh Mods, Jay-Bo. Following the immense success of the Tobh Atomizer, Jay-Bo has a lot going on to cap off 2014. First are a bunch of accessories for the Tobh Atomizer, including brass caps, copper caps, and the slam cap featuring a built in drip tip. The brass and copper caps are unique in that the inside of the cap is stainless steel, which should mollify vapers concerned with their juice … continued
---