Category: E-Cigarettes
For my tenth Ahlusion review, I've chosen a trio of coffee and tea e-liquids. These aren't straight-up, run-of-the-mill coffee and tea juices. Two of them add complementary flavors to coffee, making for unique and complex vapes. The other is the most striking tea e-liquid I've ever tried. All three are high-quality juices that you should take a look at if you're into coffee or tea flavors. Read on for more details on Ahlusion's JG Blend, Masala Chai, and Boba Tea with Coffee.
JG Blend: Ahlusion makes … continued
Following up on my chat on the unique NeoVapeTek Venturi RDA, here's an interview on the company's upcoming vaping e-liquids. At E-Cig City 4 in Riverside, I hung out with NeoVapeTek head of e-liquid research Christopher Chapman. He told me about his background as a vaper and how he got into juice making, as well as three of the company's launch flavors and what's coming next.
I've tried two NeoVapeTek e-liquids and been pleasantly surprised by the flavors. As a former clove cigarette smoker, I was curious about  NeoVapeTek's … continued
At a recent LA Vapers Club meeting, I met NeoVapeTek's head of hardware production & design, Jack Dallas. He told me all about the Venturi atomizer, one of the most unique vaping products I've seen in 2014. While there are loads of rebuildable dripping atomizers (RDAs) geared towards cloud chasers, there aren't many that are made with flavor fiends in mind. As someone that's way more concerned about flavor than vapor, I was excited about the Venturi atomizer. After using it for a week, I've been extremely impressed by this … continued
I first came across Illumunati Vapor in a Vapor Liq subscription box. The company's Lion e-liquid quickly became one of my favorites. This mix of vanilla custard and ube (known as purple yam to white people) was striking. Vanilla custard is an extremely popular e-liquid flavor, while Ube is used in many Asian desserts. When these flavors combine, they form Voltron come together for a unique and delicious dessert vape. Lion stands out from the numerous vanilla custard juices on the market and it made me want to learn more … continued
Earlier this year, I checked out an e-liquid subscription box from Vapor Liq and was very impressed by what the company offered. Like several of its competitors, Vapor Liq offers top-quality vaping e-liquids from some of the best companies in the business. What makes Vapor Liq stand out is its customization and profiling system — one of the most detailed and user-friendly I've encountered. The profiling system is very visual and easy to use, while allowing you to make precise adjustments to your flavor profile. Vapor Liq's packaging is also … continued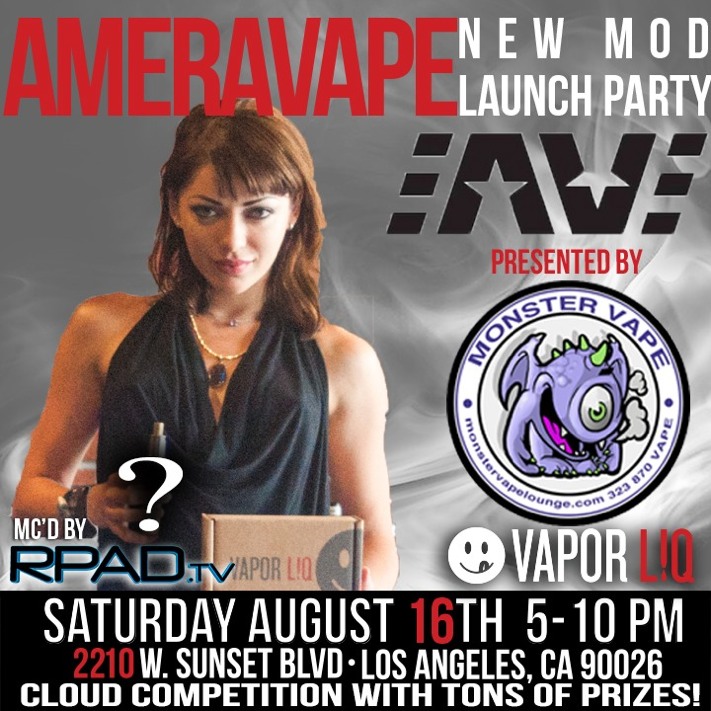 I'm hosting a hardware launch at Monster Vape Lounge for some new AmeraVape Industries mods. There will be a cloud contest with a sweet grand prize, as well as hardware and juice giveaways throughout the day. It'll be a great time, full of excellent people and free vaping stuff. Hope to see you there!… continued
Here's the short version of my VLS Vulcan review — the atomizer is one of best values in vaping today. I've been using a pair of pre-production VLS Vulcan atomizers for the last month and I was quite impressed by what this atomizer brings to the table. The VLS Vulcan is well made, looks great, has excellent features, and offers sweet performance. While there are some minor issues that prevent it from being perfect for everyone, I believe that the majority of vapers will be happy with what the VLS … continued
This video interview with AmeraVape founder and owner Erik Hutchinson is very different from the usual RPadTV vaping interview. It's mostly unedited and much longer than the video content that I usually post. As many of you know, AmeraVape — creator and manufacturer of the popular Manhattan mechanical mod — has been embroiled in several controversies. There are a lot of strong opinions about the company. Some of the opinions are justified, while some are the result of misinformation. Given AmeraVape's controversial position, I jumped at the opportunity to film … continued
One of the latest offerings from Wu Tang House of Mods — one of my favorite Filipino modders — is the El Sigilo. This mechanical mod features a unique design and fantastic aesthetics. The standard model available in brass and stainless steel, as well as a torched steel "special edition" covered in this review. It's also available in copper, but with zodiac sign aesthetics rather than Filipino-style engravings. All models come with 18650 and 18350 tubes. The El Sigilio ships in a treasure chest that contains the mod, as well … continued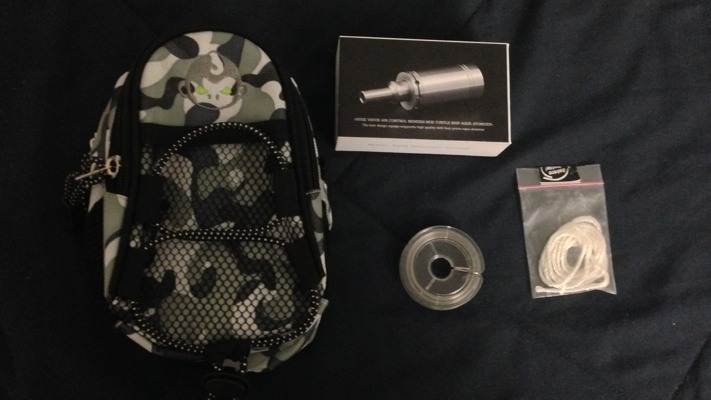 The latest RPadTV 2014 Vaping Giveaway is for a set of four items. One lucky winner will walk away with:
An Aqua atomizer replica
A camouflage vaping pouch
A spool of 28-gauge kanthal flat ribbon
A package of Bakero wick
This contest requires either a Facebook or Google+ account. To enter this contest, all you have to do is:
…
continued
---