Category: E-Cigarettes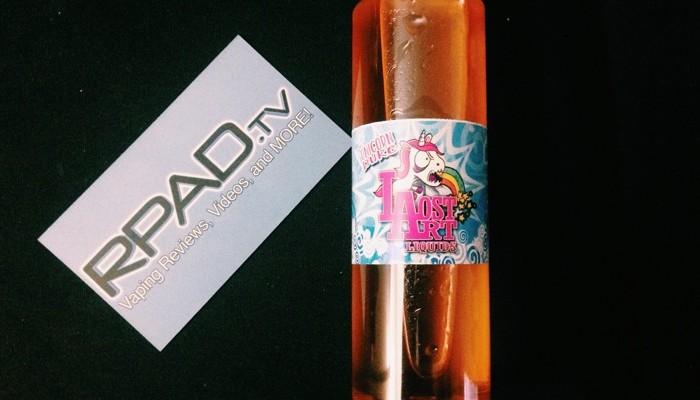 Lost Arts Liquids' Unicorn Puke is a wildly popular e-liquid and you have a chance to win a 120ml bottle of it in 3mg! If you enjoy rainbow sherbet then you'll love this fruity blend with a touch of cream. If you don't enjoy rainbow sherbet then something is wrong with your tastebuds and/or brain. As always, RPadTV mod owners get five additional entries (buy yours today for only $60!). For a chance to win this bottle of excellent juice, all you have to do is… continued
Vapetilly is a social network for vapers with Android or iOS devices. It combines elements of Instagram, Yelp, Tinder, and more. Vapetilly is all about connecting vapers, whether it's vaper to vaper, retailer to vaper, mod maker to vaper, etc. In the interview above, Vapetilly founder Allen Seiden goes over the app's current features and talks about upcoming additions.
In addition to an Instagram-style feed, Vapetilly has some nice features for vapers looking to pick up new goods. The app makes it easy to find vape shops and the feed … continued
This interview with True North Tonics owner Pedro Benito is longer than my usual chats with e-liquid makers, but it's also more interesting. Pedro talks about moving from a touring indie-rock musician with The Jealous Sound and Sunday's Best to composing music for film and television to crafting e-liquids. True North Tonics offers some of the cleanest e-liquids out there, with several unique and complex flavors. In my opinion, the company is one of the most underrated in the vaping business.
There are several things that help True North Tonics … continued
In addition to heading up Nirvana Vapor and being a partner in True Leaf Vapor, Jay O'Brien has launched a new line of vaping dessert e-liquids called V4Vape. Aimed towards vapers that enjoy sweet and savory e-liquids, V4Vape stands out with some unique and complex blends. In the interview above, Jay talks about the company's four launch flavors and the future of the line.
Going down the menu alphabetically, Valentine is a mix of condensed milk, rose essence, and nutty flavors. Surprisingly, this one has been a hit … continued
I saved my favorite ECC 2014 interview for last — a fun chat with the excellent owner of Tobh Mods, Jay-Bo. Following the immense success of the Tobh Atomizer, Jay-Bo has a lot going on to cap off 2014. First are a bunch of accessories for the Tobh Atomizer, including brass caps, copper caps, and the slam cap featuring a built in drip tip. The brass and copper caps are unique in that the inside of the cap is stainless steel, which should mollify vapers concerned with their juice … continued
As a huge fan of made-in-the-USA vaping products, I love Fallout Mods' attitude. The company is very proud that its products are, "made by us in the USA using materials sourced from the USA." I love that the company's 22mm mod is called that "7 Eights" and that it has a t-shirt that boldly states, "7 Eights Not 22mm Because This is America." Ha! Attitude aside, Fallout Mods makes some fantastic mechanical mods that offer unique features and top-notch craftsmanship. They're the kind of products that make you want to … continued
It's always a pleasure hanging out with The Force Vapors CEO Eric Trotter. He's a fun dude and one of my favorite people in the business to hang with at vape meets. Last time I chatted with Eric on camera, he told me all about The Force Vapors and some of the company's popular e-liquids. At ECC 2014, he told me about the most recent addition to The Force Vapors — Padme's Nectar — and his brand new line called Los Angeles Vapor Company.
As a lifelong Angeleno, … continued
I distinctly remember the first time I tried Perfect Cloudz's popular Sack Lunch e-liquid. It was in a goodie bag I won at an OC Vape Meet. I dripped a little and was delighted by the peanut butter & jelly flavor. To be completely honest, I immediately thought, "Stoners are going to love this one." Ha!
At ECC 2014, I had a fun chat with Perfect Cloudz co-owner Mandy Dishler. She told me about the company's background, the story behind Sack Lunch, the new Sweet & Sticky e-liquid, and more. … continued
At ECC 2014, Boomer Tech was showing of a pair of 26650 mods that will be available at relatively low prices. First up is the Jigantor (not the Jiganator, as RPadholic N8R insisted it was). This mechanical mod features a copper body for maximum conductivity, steel-plated copper caps, a magnetic switch, and a carbon fiber wrap. The Jigantor has an MSRP of $100. On the digital side is Boomer Tech's Chain Reaction. Using the same tube as the Jigantor, the Chain Reaction has a "backpack" that houses a "CNA" … continued
Out of all the booths I visited at ECC 2014, the Outbreak booth was the only one with a zombie-infested maze. A spinoff line of Epic Juice, Outbreak takes advantage of the zombie craze (I blame The Walking Dead) with five e-liquids based on undead themes. Epic Juice sales director Sammie Saing walked me through the new flavors — Agent Green, Contagion, Patient Zero, Serum, and T-Virus — and told me about the inspiration behind these e-liquids. The video above also gives you a quick walkthrough of the … continued
---