Category: Movies
Earlier in the week I woke up to the television playing a making-of feature on Abraham Lincoln: Vampire Hunter. I honestly thought I was dreaming, because this is the stupidest f*cking movie I've heard of in the last decade. I knew I wasn't dreaming when one of the actresses said something along the lines of, "He was passionate about ending slavery, but he was also passionate about killing vampires." The sheer stupidity of that comment woke me the hell up.
Is it really that hard to come up with … continued

In case you missed any of the "Best of 2011″ stories, here are links to your fellow RPadholics' picks for the best game, videogame graphics, videogame sound, movie, and gadget. While you're here, feel free to leave any "Best of 2011″ choices that weren't covered last week. From your favorite comic book, Netflix rental, TV show, sports team, coffee, fast food, WWE Superstar, and more, use this post to get 2011 out of your system (please)!… continued
For me, 2011 wasn't a great year for movies. I enjoyed a bunch of superhero flicks like Captain America and Thor, but I'm still haunted by the craptacular failure that was Green Lantern. As a huge mark for the comics, the movie was the most traumatizing film I've seen in years. 15 minutes of cool outer-space sequences didn't make up for all the garbage that took place on Earth. I'm still pained that Ryan Reynolds made Hal Jordan look like a tool. Ugh.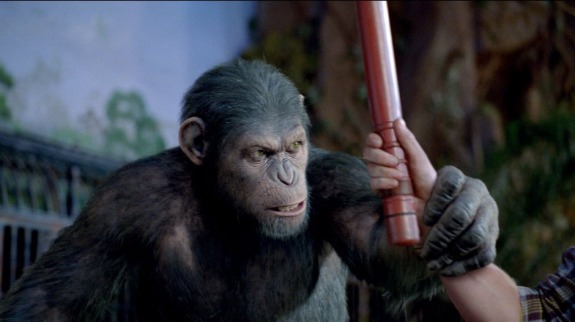 When I can block out … continued
Here's a photo gallery of Activision CEO Bobby Kotick portraying Oakland A's co-owner Stephen Schott in Moneyball. Obviously I was dazzled by his performance. It's not like I see EA CEO John Riccitiello or Ubisoft CEO Yves Guillemot starring in any movies. Only Kotick has enough charm and star-power to run a videogame mega-publisher and go toe-to-toe with Brad Pitt.
As for the movie itself, I enjoyed it but was mildly disappointed. I loved the book Moneyball. I also went to a … continued
While I wasn't high on The Dark Knight Rises trailer, I completely lost it when I saw the trailer for The Hobbit: An Unexpected Journey. I loved Peter Jackson's The Lord of the Rings films and I'm sure I'll dig this movie too. The tech nerd in me (most of me) loves that Jackson is using Red Epic 3D cameras. Those super expensive cameras pack some serious tech and should make the movie look brilliant. Also, Gandalf is cool.
Anyway, kindly leave your thoughts on The Hobbit trailer when … continued
Here's the latest trailer for The Dark Knight Rises. Loads of my friends are raving about it, but it doesn't do much for me. I don't think it's bad at all, but I'm not blown away like some of my friends are. Also, I hate Bane's mask. I mostly dislike Bane's entire outfit. Surprisingly, I'm mostly unmoved by the trailer.
How about you? How do you feel about the new trailer for The Dark Knight Rises?… continued

In a move that I'm going to file under "It's About Frickin' Time You Hacks!", Time Warner Cable has signed a deal with HBO for the HBO Go and Max Go streaming services. I've been extremely envious of my friends that have been able to enjoy the extensive library and advanced programming on HBO Go. Unfortunately, Time Warner Cable took its sweet-ass time to give its customers progressive features. I write this as I stare at my antiquated TWC cable box with its caveman UI. Before I start getting angry … continued
Congrats to my pals at Machinima for nabbing the exclusive premiere trailer for GI Joe 2: Retaliation. After watching the trailer, I'm actually kind of psyched for it. Aside from a few slick action scenes featuring Snake Eyes, GI Joe: The Rise of Cobra was horrible. As a GI Joe mark, I wanted the first one to be great, but it ended up being one of the most disappointing movies I've ever seen (Green Lantern currently holds the top spot). Here's a binary breakdown of my thoughts on … continued
The legendary George Takei (Star Trek's Hikaru Sulu!) is calling for "Star Peace" — a movement that aims to unite Star Wars and Star Trek fans against the evil of Twilight. This is truly one of the most worthwhile causes I've heard of in years! Naturally, an Asian-American man is bringing everyone to their senses. Check out the video above and let me know what you think (please!).
Now kindly excuse me as I have to find my phaser and lightsaber. Hopefully they both work against bloodsucking teenagers.… continued
This Star Wars musical parody by The Piano Guys is one of the best Internet videos I've seen in 2011. It's funny, creative, and awesome all the same time. The music is great. The costumes are great. The comedy is fantastic. I completely love this video! If I wasn't poor, I'd donate money to The Piano Guys just for making this highly entertaining video.
How about you? Check it out and let me know what you think (please!).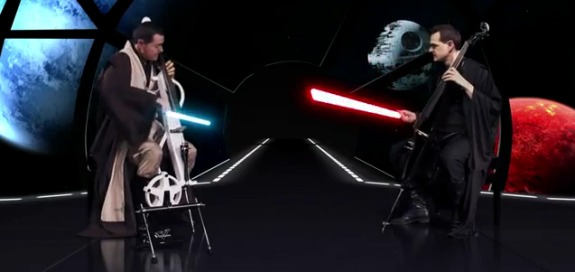 … continued
---