Category: Movies
While I wasn't high on The Dark Knight Rises trailer, I completely lost it when I saw the trailer for The Hobbit: An Unexpected Journey. I loved Peter Jackson's The Lord of the Rings films and I'm sure I'll dig this movie too. The tech nerd in me (most of me) loves that Jackson is using Red Epic 3D cameras. Those super expensive cameras pack some serious tech and should make the movie look brilliant. Also, Gandalf is cool.
Anyway, kindly leave your thoughts on The Hobbit trailer when … continued
Here's the latest trailer for The Dark Knight Rises. Loads of my friends are raving about it, but it doesn't do much for me. I don't think it's bad at all, but I'm not blown away like some of my friends are. Also, I hate Bane's mask. I mostly dislike Bane's entire outfit. Surprisingly, I'm mostly unmoved by the trailer.
How about you? How do you feel about the new trailer for The Dark Knight Rises?… continued

In a move that I'm going to file under "It's About Frickin' Time You Hacks!", Time Warner Cable has signed a deal with HBO for the HBO Go and Max Go streaming services. I've been extremely envious of my friends that have been able to enjoy the extensive library and advanced programming on HBO Go. Unfortunately, Time Warner Cable took its sweet-ass time to give its customers progressive features. I write this as I stare at my antiquated TWC cable box with its caveman UI. Before I start getting angry … continued
Congrats to my pals at Machinima for nabbing the exclusive premiere trailer for GI Joe 2: Retaliation. After watching the trailer, I'm actually kind of psyched for it. Aside from a few slick action scenes featuring Snake Eyes, GI Joe: The Rise of Cobra was horrible. As a GI Joe mark, I wanted the first one to be great, but it ended up being one of the most disappointing movies I've ever seen (Green Lantern currently holds the top spot). Here's a binary breakdown of my thoughts on … continued
The legendary George Takei (Star Trek's Hikaru Sulu!) is calling for "Star Peace" — a movement that aims to unite Star Wars and Star Trek fans against the evil of Twilight. This is truly one of the most worthwhile causes I've heard of in years! Naturally, an Asian-American man is bringing everyone to their senses. Check out the video above and let me know what you think (please!).
Now kindly excuse me as I have to find my phaser and lightsaber. Hopefully they both work against bloodsucking teenagers.… continued
This Star Wars musical parody by The Piano Guys is one of the best Internet videos I've seen in 2011. It's funny, creative, and awesome all the same time. The music is great. The costumes are great. The comedy is fantastic. I completely love this video! If I wasn't poor, I'd donate money to The Piano Guys just for making this highly entertaining video.
How about you? Check it out and let me know what you think (please!).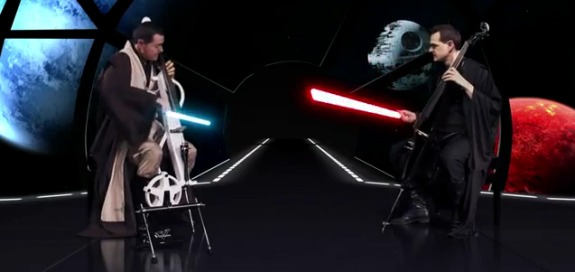 … continued
I almost always see someone wearing Bose QuietComfort headphones when I fly. I almost always laugh at those people. Bose QuietComfort headphones are overpriced and overrated. You can get headphones -- in-ear or cans -- that cost the same or less...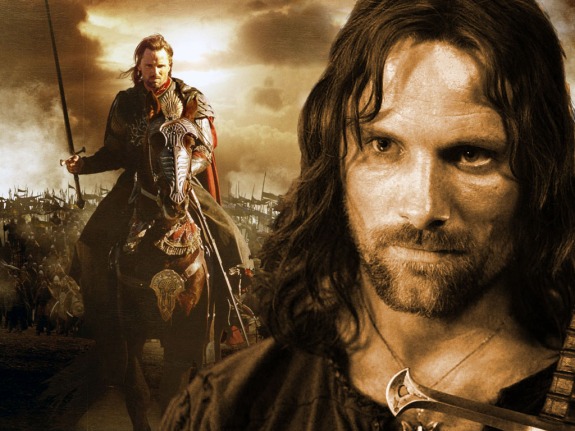 I posted this important (and silly) question about The Lord of the Rings on my Facebook page and thought you guys might have fun with it too. "Say Aragorn was a lvl. 12 ranger at the start of The Fellowship of the Ring. What level and class was he at the end of The Return of the King?" I got some really cool and really nerdy answers from a few of my Facebook friends and I'm sure you guys can top it, so have at it (please)!
And … continued
Empire magazine has some great shots of the Bane costume from the upcoming Batman movie The Dark Knight Rises. With the negative reactions Catwoman's costume received, I was hoping for something better with Bane. Unfortunately, I can't get behind the Bane costume. To me, they're trying too hard to make him look like Hannibal Lecter. In my head, Bane's mask resembled that of a luchador and the "Venom" drug was pumped into the back of his head. Here it looks like Venom is feeding into his mouth. Also, what's … continued
Last night I went to a screening of The Muppets and left the theater completely charmed. It's a fun and cute movie that mixes the classic feel of the Muppets previous musical adventures with several modern twists. As expected, Jason Segel's...
---