Category: Movies
I'm not sure what's more surprising — the British government banning Dakota Fanning's advertisement for Marc Jacobs' Oh, Lola! perfume or that Dakota Fanning is getting kind of hot. On one hand, England is the country that gave us "Page 3 Girls". I figured those cats would be okay with an ad featuring an attractive 17-year old star. (Plus, those guys produced Emma Watson.) On the other hand, I never would have guessed the adorable girl from I Am Sam would transform into a sexy young woman.
Check out the … continued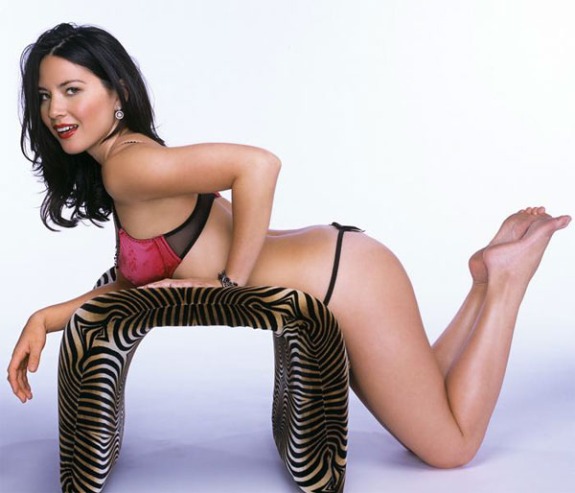 I'm so pissed at Brett Ratner. He had to idiotically use the word "faggot" in an interview, which caused a whirlwind of controversy that led to him bowing out of producing The Oscars. Now all the attention has been taken away from his sordid tales of Olivia Munn. That sucks! Just in case you haven't heard, here's what Ratner said about the woman a lot of you know as Bolivia Bunn:
I used to date Olivia Munn, I'll be honest with everyone here, but when she was Lisa. She wasn't
…
continued
Considering that I recently attended the premiere of A Very Harold & Kumar 3D Christmas and it's Coffee Talk #420, I thought that it would be a good time to discuss your favorite stoner movies. Since the the groundbreaking Cheech & Chong's Up in Smoke...
Justin Leeper and I were lucky enough to get to chat with the legendary Casper Van Dien on the set of the upcoming videogame movie Noobz. The Starship Troopers star talks about his roles (multiple) in the movie, whether he can take on Dom from Gears of War, New Jersey vs. wherever the hell Justin is from, and more. It's a fun and loose interview with a great man. Check it out and let me know what you think (please!).
Actor Jason Mewes (Clerks II) and director Blake Freeman talk about their upcoming videogame movie Noobz in this excellent video. In addition to the movie, the two talk about Gears of War 3, discuss first-person vs. third-person action, send a special message to Epic Games' Cliff Bleszinski, and go off-topic in a hilariously lewd way. The legendary Casper Van Dien also pops up in the video making it extra awesome. Warning: this interview contains lots of naughty language and dirty references.
Special thanks to Justin Leeper for … continued
Super important poll today: it's Casper Van Dien vs. Michael Dudikoff in a battle of bad-asses!!! On one hand, Dudikoff is an American Ninja. He's American. He's a ninja. He beats the hell out of non-American ninjas. On other hand, Van Dien is Johnny Frickin' Rico! He slaughters giant alien bugs the same way you or I would swat gnats. Plus, he's also been Tarzan and James Dean. More pluses include the fact that he's co-producing the videogame movie Noobz and he follow me on Twitter.
This isn't really … continued
One of the highlights of my Noobz set visit was meeting Casper Van Dien. During our interview, he was super funny and charming. My buddy Justin and I were surprised when Casper hung out with us for a bit after the camera stopped rolling...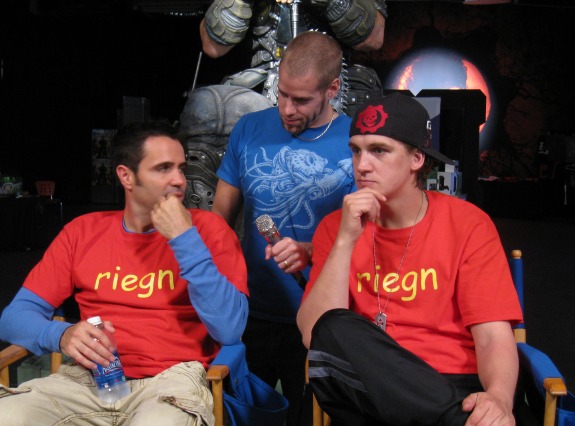 Here are some photos from the set of the movie Noobz, including a few with actor Jason Mewes and director Blake Freeman. Today's set was the finals of a huge tournament with the competitors shooting it out in Gears of War 3. It was cool chatting with the cast and crew, particularly the legendary Casper Van Dien and his daughter India Oxenberg. And really, it was just cool hanging out with people that are also in IMDB. I kid, I kid.
I'll write about my … continued

I'll be spending a large chunk of today on the set of Noobz, a videogame movie starring Jason Mewes, Zelda Williams, Jon Gries, and more. The movie is about a group of friends and their dream to conquer a videogame tournament. From what I understand, the finals use Gears of War 3.
I'm excited about this movie for several reasons. First of all, it's cool when gaming is portrayed in a cool way. Jason Mewes was awesome in all the Kevin Smith films and I'm excited to meet … continued
Are you a fan of the Harry Potter movies? Well you better snatch them up while you can, because it looks like they're going to be hard to find in 2012 (in disc format, anyway). According to Deadline Hollywood, Warner Bros. will stop shipping the Harry Potter movies on December 29, 2011. Check it out:
Harry Potter, the #1 motion picture franchise of all time, will soon disappear from shelves, as Warner Bros. stops shipping all Harry Potter theatrical film titles (including Harry Potter and the Deathly
…
continued
---