Category: Videos
Here's a short interview with Plastic Piranha president and CEO Jason Brice. For those of you not familiar with the company, it's the developer of the upcoming first-person shooter Rekoil. Going from movie marketing to creating a hardcore first-person shooter sounds like an odd career path, but that's the one Jason Brice has followed. Listen to him talk about his coworkers recreating a Call of Duty level in the office to creating CoD maps to creating Battlefield 2142 maps to starting his own development studio. Due to his atypical … continued
Arguably the most-wanted Innokin product of 2013, the iTaste VTR is a box mod positioned as a premium product. Out of the box, I was surprised by its heft. The iTaste VTR is a weighty vaping device that looks bolder and feels more luxurious than its sister product, the iTaste MVP 2. My initial impression is that a strong argument can be made that this is the best product Innokin has released, but some vapers will be put off by its weight. However, I definitely need to spend more … continued
As a Filipino-American, I was thrilled that Grand Vapor owner Gabriel "Gab" Villapana came all the way from the Philippines to attend ECC 2013. I'm a big fan of Grand Vapor mods and atomizers (currently rocking a red Sentinel 3.5 and a gold-plated Trident). Gab had several goods on display at the show — the Prometheus Genesis-style atomizer, the Trident 2 dripping atomizer (ECC debut!), the limited edition gold-plated Sentinel, the limited edition sand-blasted Sentinel, the Sentinel v4, and more. Gab talks about the products he had on … continued
Out of all the booths at ECC 2013, Five Pawns had the most impressive setup. The company's booth was made from reclaimed prune crates and the employees were decked out in black vests. It made the booth feel like a saloon from Old West. Five Pawns had several things going on at ECC 2013. The successful Castle Long Reserve e-liquid got a second release and the upcoming Mixology line was teased. Five Pawns president and founder Rodney Jerabek talks about all the booth, the second release of Castle Long … continued
Space Jam is a Southern California e-liquid company that makes some creative juices and uses a fun sci-fi theme. At ECC 2013, I met up with Space Jam co-founders Aaron Pederson and Mike Crawford to learn more about the company. Being a nerd, I love the branding and names that Space Jam uses. Several of its juices feature the type of complexity that I love in e-liquids. For example, Omega is a mix of spiced peaches and cream that uses real California peaches. Aaron and Mike talk about how … continued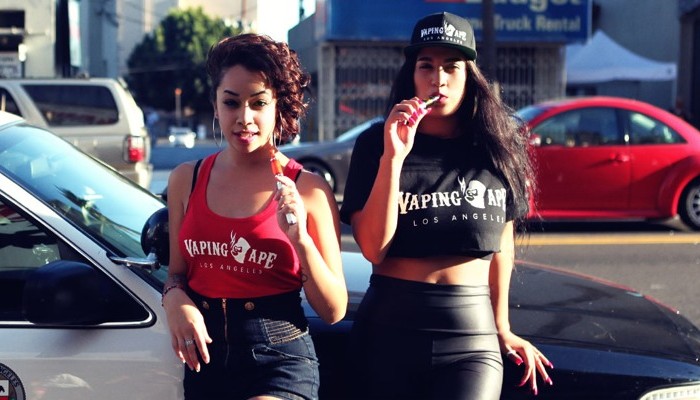 Here's a fun video I hosted for the excellent people at Vaping Ape Los Angeles. The store held a raffle for a stainless steel Chi You mod by Style of Mojo. I was at Vaping Ape Los Angeles to host the raffle drawing. Customer Guillermo Cabrera won the raffle and gets a free Chi You. If you're not familiar with the Chi You, it's a hard-to-get mechanical mod from Korea. If you're a vaper living in the Los Angeles area, be sure to drop by Vaping Ape Los … continued
Juice By Numbers is a Southern California e-liquid company that eschews fancy names for numbered juices. The company's first five products are #1, #2, #3, #4, and #5. Guess what the company's next product will be called? If you said #6 then you're a genius! In this ECC 2013 video, Juice By Numbers co-owner Eric Silverman talks about how a pair of friends started the company, his thoughts on crafting e-liquids, and his lineup of flavors.
Juice by numbers e-liquids are available at Vape Revolution, but I've noticed a … continued
One of the more unique companies I met with at ECC 2013, Rehab Vapors has some cool flavors and an interesting business model. The company donates 10 percent of its profits to detox-and-recovery programs. It's awesome seeing a vaping company with charitable donations built into its business model. As for the flavors, Rehab Vapors has several interesting combinations that appeal to a broad range of vapers. Watch Rehab Vapors COO William Spallino talk about the company's start, its approach to crafting e-liquids, the current flavor lineup, and more. You'll also … continued
The Vapor Bombz Omega is a made-in-the-USA rebuildable dripping atomizer with some powerful features. At ECC 2013, I chatted with Vapor Bombz Omega designer Steve Nguyen to learn more about this RDA. In the interview above, he talks about the product's features and design. The Vapor Bombz Omega is a versatile RDA that's suitable for flavor fiends and cloud chasers alike. Thanks to its easy-to-use airflow adjustment, vapers that like both styles of vaping can quickly change the Vapor Bombz Omega's performance to provide the kind of vape they … continued
Like many vaping reviewers, I've been very impressed by Innokin products. Unlike many vaping reviewers, I actually pronounce the company's name correctly. This is something that has always bugged me; some of the most popular reviewers on YouTube butcher the pronunciation of Innokin. At ECC 2013, I caught up with Innokin deputy manager/vice president Haoran "George" Xia to get the official word on how to properly pronounce Innokin.
To me, it always seemed obvious that the company name was a play on the word innovation. For some reason, some … continued
---