Category: Videos
Vape Los Angeles is a new company that has been getting a lot of buzz for its Oni mod. At Vapetoberfest 2013, I caught up with company representative Harry Cometa. He told me about the company's start and went over the features of the Oni mod. Purported to be made in the USA, the Oni mod is made from 316 stainless steel, comes with two firing pins (gold-plated brass and silver-plated copper), and has a magnetic switch. The first — and presumably only — run of the mod was limited … continued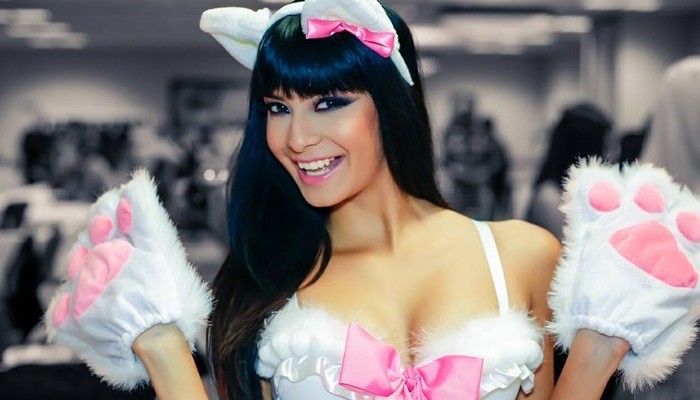 My favorite interview of Vapetoberfest 2013 was with my buddy Marie Alvarez. She's done a bunch of modeling for vaping companies and is adored in the SoCal vaping community. Lots of people (I'm guessing dudes) enjoyed my Marie Alvarez interview from ECC 2013. For our second fight interview, we fought about Japanese Pumpkin Pudding Kit Kats, did some catching up, and talked about her new hairstyle.
Oh yeah, she was working at the Surefire Vapor booth at the show, where the company unveiled the new diamond-knurled version … continued
Envision Vapor is a San Diego company that makes gorgeous handblown glass drip tips and tanks. Out of all the interviews I filmed (technically, RPadholic N8R was filming) at Vapetoberfest 2013, this one was the most important to me. You see, Envision Vapor was started by my buddy Rob and his longtime friend Jason. Rob and I know each from the natural tobacco e-liquids thread on Electronic Cigarette Forum (ECF). He wanted to find a way to break into the vaping business, but wasn't sure which direction to take. … continued
Jet Fuel E-Liquid is a family owned and operated business out of California. Yes, as a Filipino-owned vaping company in California, I'm predisposed to liking these guys. In Los Angeles vape shops, I often hear people raving about the company's Papi Churro and Watermelon Sundae juices. At Vapetoberfest 2013, I met up with Jet Fuel E-Liquid vice president Jet Santomin. He told me how the company got its start, talked about some of Jet Fuel's most popular flavors, and described the Kaptain Amerika juice the company released at the … continued
At Vapetoberfest 2013, I had the pleasure of meeting Bay City Vapor founder James Livingston. He told me about the company's upcoming mechanical mods, which are designed and made right here in California. James' background is in manufacturing, so he's particular about craftsmanship and conductivity. Bay City Vapor mods aim to offer high performance and an elegantly understated style. I was particularly enamored with the XXIX, which is a gorgeous copper mech. If copper isn't your thing, Bay City Vapor has the SurfRider series, which is available in brass … continued
As a comic-book fanboy and Star Wars nerd, I was really looking forward to trying some of Majestic Vapors' "Geek Line" of e-liquids. I recently vaped Majestic Vapors' Vader's Vengeance, Fant4stic Four, and Lantern's Light. Before I get to the flavor breakdowns, let's chat about the company for a bit.
Majestic Vapors is a retail shop in the Niagara Falls area. The company offers a wide variety of juices — some straightforward blends and some interesting mixes. The Geek Line uses playful references to comics, movies, videogames, … continued
The Vape Tree is a relatively new e-liquid company that focuses on complex juices that use several ingredients. I recently vaped three of the company's e-liquids: Pinoy Punch, Banyan Tree, and Royal Tobacco. I liked one of them and loved two. The two Vape Tree e-liquids I loved were unique and complex — very distinct blends that stand out. The one I loved the most featured one of my favorite fruits — a fruit that's very uncommon in the vaping world. I definitely recommend giving the two … continued
The Kebo Russian is a bottom-coil silica atomizer that offers fantastic flavor and high capacity. It's a 1:1 copy of the Svoe Mesto Kayfun 3.1, which many vapers love for its strong performance. While other companies have tried to mimic the Kayfun 3.1, they've mostly offered an inferior experience. The Kebo Russian offers the same outstanding performance as the product it's based on, but for a much lower price.
What's in the Kit: The Kebo Russian comes with the atomizer, a clear tank, a stainless steel tank, a 510 … continued
Earlier this year, Naturally-Extracted-Tobacco.com opened for business. As a huge fan of NET e-liquids, I was really excited to see what this vendor brought to the table (or atomizer, more accurately). When I learned about the company's different extraction and bottling options (detailed in Vaping Diaries #96), I was even more excited. After vaping the company's Bombay, Chris' Blend, and Coventry e-liquids, I'm pleased to say that Naturally-Extracted-Tobacco.com is a very good choice for tobacco fans, with the potential to be a great one.
In broad terms, … continued
The El Kapitan 1.5 is an updated version of a beautiful mechanical mod from the Philippines. Made by Wu Tang House of Mods, the El Kapitan 1.5 features distinct looks and great performance. For those of you not familiar with Wu Tang House of Mods, it's highly regarded by enthusiast vapers, but isn't as well known (to American vapers, anyway) as other Filipino vaping companies like Grand Vapor and VapeHead Origins. With products like the El Kapitan 1.5, Wu Tang's reputation will burgeon. It's an attractive vaping device that's … continued
---